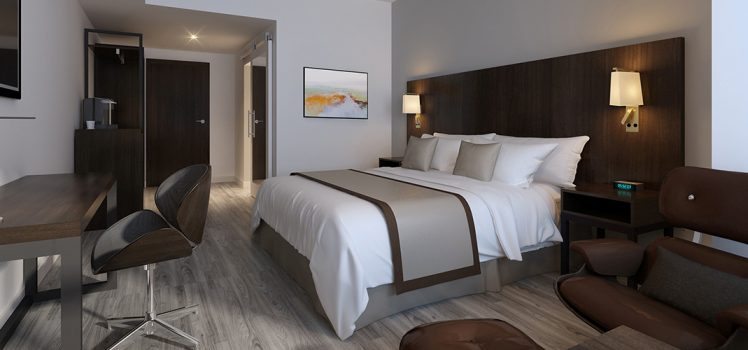 At Hotel Interurban, we're all about "now."
Living in the now, and having it now.
Living in the Now
It's 2018, and yet in many hotels you stay in these days, it feels like it's 1998.
Old floral carpet, dingy, laminated binders with outdated local information, dreary fluorescent lighting, and TVs so small that they could easily double as computer monitors.
Stop us if you had a recent business trip or family vacation in one of those places.
When you stay with us in downtown Tukwila, our sleek, modern guestrooms and innovative technologies will have you feeling like you're living in 2018.
Some of you might even feel like it's 2028.
49" Smart HDTVs with ability to cast video from your mobile device. Keyless mobile entry. LED-lit bathroom mirrors. Luxury tile flooring, and ergonomically-designed leather chairs.
And we certainly can't forget Hazel, our first team member.
Hazel is named after "Land of Hazelnuts," a phrase better known by the Duwamish word "Tukwila."
She delivers everything from food and beverages to pillows and toothpaste right to your door, and she never needs tips.
Robots don't really have a use for them.
That's right, Hazel is a Savioke Robot and our first team member at Hotel Interurban.
Having It Now
Whether for business or leisure, any whim, need, or experience is truly steps away.
More than 200 entertainment, shopping and dining options nearby.
Electric car charging stations outside.
Fast, convenient (and complimentary) shuttle service to Seattle-Tacoma International Airport.
The technology at our guests' disposal, as well as our central location in Tukwila makes every stay and every event at Hotel Interurban seamless, simple, and comfortable.
It's about what you want, exactly when you want it.
Having it now. That's what we're about.
The only thing left to do? Book now.